Description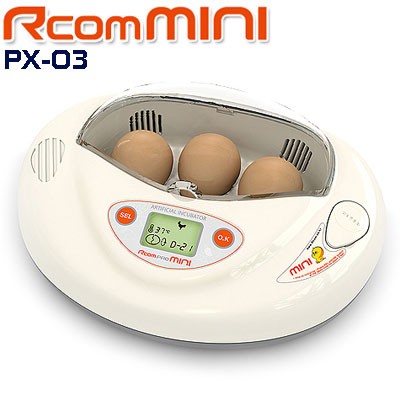 | | |
| --- | --- |
| Product name | RCOM MINI |
| Code | 1510043083 |
| Manufacturer | AUTOELEX |
| Brand | Rcom |
| Model | PX-03 |
RCOM MINI PRO INCUBATORUL DE OGĂ (RCOM PX03) ESTE UN INCUBATOR CU UMIDITATEA AUTOMATĂ A TEMPULUI, TURNING ȘI PRE-PROGRAMAT-220V
Transportul maritim este gratuit pentru SUA. Reducerea transportului maritim în Canada, Mexic, Hawaii, Alaska, Puerto Rico și în alte țări.
Putere: 220-240V 50H și cablu C. Vă rugăm, înainte de a achiziționa o mașină de 220V în cazul în care expedierea este în afara SUA, Canada și Mexic, vă rugăm să ne trimiteți un e-mail înainte de a plăti pentru a vă întreba dacă putem livra în țara dumneavoastră.
RCOM INCUBATOR PRO MINI CARACTERISTICI PRINCIPALE:
Incubatorul Rcom mini pro
Măsurarea temperaturii: -30 ° C la 11,2 ° C (22 ° F la 199 ° F). Precizie + 0,5 ° C (0,9 ° F).
Măsurarea umidității: între 0 și 100% RH. Precizie +/- 2% RH.
Temperatura punctului de rouă de la 0 ° C la 80 ° C (32 ° F la 176 ° F). Precizie 0.5 F (0.9 F).
Temperatura becului umed de la 0 ° C la 80 ° C (32 ° F-176 ° F). Precizie 0.5 ° C (0.9 ° F).
Funcția de menținere a datelor și de așteptare maximă
Rezoluție de temperatură și umiditate 0,01 / 0,01% RH.
Mici și ușor de transportat.
Elementele pe care le veți primi: incubator, manual de instrucțiuni, tavă de dimensiuni egale standard și cablu electric.
https://www.rcom-company.com/video/Rcom-pro-mini-chicken-egg-hatching-4.mp4?_=1
Precautions when using the RCOM incubator
Thank you for choosing an RCOM incubator.
Please be sure to check the following information before incubation.
Due to the high risks involved in incubating rare or costly eggs, it is recommended to test the incubator thoroughly before use.
Unexpected problems may arise during the incubation process too.
Please prepare an extra incubator to prevent such problems,
and it is also very important to regularly observe the internal conditions and the condition of the eggs.
Neither the manufacturer or distributor are liable for any loss off eggs or chicks as a result of the incubation process.

Precauții la utilizarea incubatorului RCOM
Vă mulțumim pentru alegerea unui incubator RCOM.
Asigurați-vă că verificați următoarele informații înainte de incubare.
Datorită riscurilor ridicate asociate cu incubarea ouălor rare sau costisitoare, este recomandat să testați bine incubatorul înainte de utilizare.
Pot apărea și probleme neașteptate în timpul procesului de incubare.
Vă rugăm să pregătiți un incubator suplimentar pentru a preveni astfel de probleme,
și este, de asemenea, foarte important să se respecte în mod regulat condițiile interne și starea ouălor.
Nici producătorul sau distribuitorul nu este răspunzător pentru eventualele pierderi de ouă sau pui ca rezultat al procesului de incubare.